Welcome Members
Website Login Instructions!
Here's some important information about logging into the site:
1) If you are a member, please log in each time you visit the site. This is the only way you can view members-only content under the Community LIfe menu such as the Member Directory; manage your Nevei Kodesh account (including billing event registrations to your NK account for later payment); and have your registrations automatically link to your account.
You must log in with the email address you associated with Nevei Kodesh. If you're having trouble logging in, call the office to make sure we have your current email address!
Where is the login link? Look up! It's at the very top right-hand corner of the site. If you don't know your password, click "Forgot My Password" and the site will send you an email with a login password.

2) Once you log in for the first time, click on the My Account link here or at the top of the page. Click on the My Profile section, and click on the Change My Email / Password link on the right side. You'll see something like this: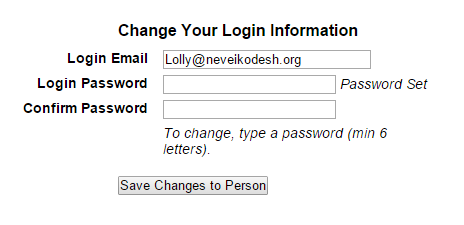 "Enter and confirm a password, and click the Save Changes to Person button. You'll use this password to log into the site from now on. If you ever forget your password, click the Forgot My Password link, and you'll get an email with instructions."
3) In the My Account section, you will see a section called My Transactions which allows you to view and pay invoices on your account, as well as see past payments. If you use this link to pay through Paypal (using either your credit card or your PayPal account), you'll see the transaction show up in your account shortly after.
4) It's important to log in before you register for events or make donations online. That way you'll be assured that your payment will be associated to the correct account. Although you may register or donate without logging in, the information may not immediately be connected to your account.
5) If you see information in your profile that needs to be updated, please enter the changes.
6) Click on links below to get to:
Participation forms, school registration, new membership or high holiday info.
Fri, July 1 2022
2 Tammuz 5782
Fri, July 1 2022 2 Tammuz 5782